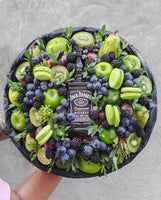 Green Harvest Delight gift basket
Introducing our Green Harvest Delight gift basket, brimming with an assortment of fresh green fruits including apples, pears, grapes, blueberries, and blackberries. Accompanied by a bottle of smooth Jack Daniel's whiskey, this exquisite combination offers a perfect balance of healthful indulgence. A delightful gift choice for any occasion. Enjoy the vibrant flavors and toast to special moments!
Hot Chocolate Bombs for Christmas🎄
About Us
"🌸 Blooming with love and sweetness in the heart of Toronto! 🍓❤️

As some of you may know, before opening our flower shop right here in Canada, I was a doctor back in Venezuela. Life took us on a new journey, and we decided to embrace this beautiful city with open arms and follow our passion for bringing joy and beauty into people's lives.

At Floral Fashion Boutique, we strive to create magical moments that warm your heart and tantalize your taste buds. From stunning floral arrangements to our hand-dipped chocolate strawberries, every detail is carefully crafted to make your special occasions even more unforgettable.

With each bouquet or box of strawberries that leaves our shop, we pour in a little piece of ourselves - the dedication, love, and expertise that comes from years of caring for others as a doctor. Our goal is to bring smiles, evoke emotions, and spread happiness, one petal and one perfectly indulgent bite at a time.

We are so grateful to be part of your lives and witness the love and joy that our creations bring. Thank you for choosing us to be a part of your celebrations, big or small. Your support allows us to continue doing what we love and sharing our passion with the wonderful people of Toronto❤️

Testimonials
Truly the best floral arrangement shop I have ever found. I have order quite a few pieces for Christmas, birthdays, going aways and have never beeb disappointed. They have wonderful customer service with all the questions ask for them. I planned to continue ordering in the future. May your business truly blossom and grow with your wonderful works of art

Jessica Romero.
I received a floral arrangement as a gift. The bouquet was beautiful. The strawberries were big and delicious and the roses were big and fresh. Thank you!

Akezia Jainaraine.
Gorgeous bouquet i ordered from uber eats!! Beautiful!! Magnificent!!!

Khadija Alhandani